Entertainment Weekly. The Covers Part 4: Geraldine Hessler
On September 30 at the SVA Theater in NYC, every design director from
Entertainment Weekly
's 25 year history will gather for an historic event,
For the Love of Enterainment Weekly
. The evening is part of SPD's 50th anniversary celebration, as well as an advance notice of EW's 25th anniversary, which is February 16, 2015.
Former EW design directors
Michael Grossman
,
Robert Newman
,
John Korpics
,
Geraldine Hessler
,
Brian Anstey
,
Kory Kennedy
, and
Tim Leong
will show their work and give an inside look at the magazine's creation. There will also be a special tribute to former DD
Amid Capeci
.
As a lead up to the event, SPD will be showcasing the cover pages of each design director. Here are the EW covers of the magazine's fourth design director,
Geraldine Hessler
, plus comments on how the covers were created. These 16 covers date from the years 1999-2008.
Above: The Dixie Chicks, March 2, 2003.
The Dixie Chicks: We shot this cover right after Natalie Maines spoke out against President Bush while on tour in London, and the band was being called all kinds of horrible names. It was actually their idea to pose nude with all the slurs on their bodies. The original idea was to have bumper stickers made and to plaster their bodies with them, but we had a body painter on set just in case the stickers didn't work. It was a good thing, because the shipment of stickers never made it. The band loved this image so much that they used it for the poster for their movie.

(Left to right): The Great American Pop Culture Quiz, April 9, 2004; Chris Rock, March 19, 2004; Avril Lavigne, November 1, 2002.
Bart Simpson: We worked with Matt Groening to come up with this concept of our Pop Culture Quiz. Typical Bart has all the answers written all over his body. The type keeps the whole cover feeling super playful.

Chris Rock: Nothing Photoshopped here; that is real fire!

Avril Lavigne: I love this super-tight angst-ridden image of teen sensation Avril. It was the first time I tilted the logo since it was leveled off in the first year of EW's history.

(Left to right) Samuel L. Jackson, August 4, 2006; Mel Gibson, February 20, 2004, illustration by Matt Mahurin; Juno, February 8, 2008.
Samuel L. Jackson: The funny thing about this Snakes on a Plane cover is that Jackson's contract said that he didn't have to be in contact with any snakes for this movie. Not so for our cover shoot! We had hundreds on set, plus this giant one for the cover. It's shot on location, and the plane in the background is also real.

Mel Gibson: There was such a huge controversy over this movie and Mel would not pose for a cover. We knew we couldn't NOT do it, so I assigned Matt Mahurin to do a photo illustration of Mel. It's part Jesus, part Mona Lisa, part Mel. The image really touched readers' nerves, but proved to be one of the biggest sellers of that year.

Juno: I really liked her relaxed, casual pose with the feet slightly turned in--it really captures the character from the movie, and the red, black, and gray type nicely mimics her outfit.

Heath Ledger, February 1, 2008; Michael Moore, July 9, 2004; Lindsay Lohan, December 17, 2004.
Heath Ledger: When the news came in on Tuesday at 5pm (our shipping day) that Heath Ledger died, we immediately dropped the cover we were working on and pulled together a cover story on the shocking, untimely death of a rising star. This image of Heath Ledger was shot by Martin Schoeller during our Brokeback Mountain cover shoot. The haunting sadness in his eyes seems to say it all.

Michael Moore: We wanted to show Michael Moore's desire to save the world. Superman seemed the perfect fit.

Lindsay Lohan: Vintage Ann-Margret was the inspiration for this striking image.

(Left to right): Gwen Stefani, December 1, 2006; Al Gore, July 21, 2006; Fall TV Preview, September 9, 2005.
Gwen Stefani: Gwen was the star of our Inspiration Issue. In this image she reveals her new look to her fans after being out of the spotlight while she focused on her family. Chains and all, she's a total badass.

Al Gore: Such an ominous portrait of Al Gore. It's a little scary, but I love it.

Fall TV Preview: This was the first of at least 10 covers I did for Lost (one of my favorite shows of all time!). It was also the first time we departed from a row of "chips" above the logo, which dominated the cover, because who doesn't love seeing Matthew Fox dripping in water!"

(Left to right): Jennifer Aniston and Vince Vaughn, June 2, 2006; Britney Spears, November 21, 2003; The Power Issue, October 18, 2002.
Jennifer Aniston and Vince Vaughn: This was the only cover that Jen Aniston and Vince Vaughn posed for together--which was huge at the time because of all the rumors about their relationship that were all over the tabloids. We originally shot a posed color shot for the cover, but decided to go with this outtake from the inside set-up because the energy was so good. Plus, I just love the powerful way Jen is towering over Vince; it's so triumphant.

Britney Spears: This cover was shot just as Brit was spiralizing out of control, the angelic styling and prayer-like pose is the complete opposite of the paparazzi bad-girl images that were all over the tabloids at the time.

The Power Issue: This cover was done at the height of Ozzy Osbourne's reality show. It was the first time we shot a single image instead of a powerful type cover with a grid of the most powerful people in the industry. I love the way Ozzy is styled in a power suit instead of his usual rock n' roll black.

Related LinksFOR THE LOVE OF ENTERTAINMENT WEEKLYDoors open at 6:30 pm for seating. Presentation begins at 7:00pm

TICKETS
_________________________
SPD Members - $15.00 (log-in to get the member discount)

General Admission - $30.00 (want 50% off tickets, plus more? Join now!)

_________________________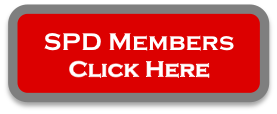 Don't miss it! All tickets and seating are first come, first served. When tickets sell out, they're gone!